Zinc Flake Coating Service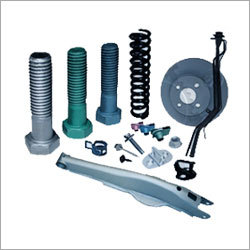 Zinc Flake Coating Service
Service Description
Since our establishment in 2009, we have been providing Zinc Flake Coating Service. The offered services are conducted by our experienced team members using modern tools and machines. We are engaged in providing zinc flake coating on nuts, springs, components and other metal surfaces. The coating is uniformly sprayed on the metals to prevent corrosion and abrasion. Owing to our timely execution and cost-effectiveness, the Zinc Flake Coating Service, which we offer is widely demanded by our customers.
Magni Benefits:
Magni has Engineered special coatings to suit INDIAN climatic conditions of high temperature and humidity
Integrated lubricity for easy installation
Consistent toque tention relationship
Resistant to automotive fuels and fluids
Maintains adhesion after multiple installation/removal cycles
RoHS, WEE and ELV Compliant Coating systems
Standard and Custom colors available
Frequently Asked Questions:
1. What is zinc flake coating technique?
Ans. In terms of software, a zinc-flake coating manner consists of spraying the coating on a part or dipping the element into the coating and spinning off the excess (DECC is a solely rack-spray coating facility). Zinc-flake coating isn't always an electrolytically applied coating, as is zinc plating.
2. What is zinc flake used for?
Ans. Zinc flake coating is used, principally, to reliably protect high-tensile steels, aluminum alloys and die-solid zinc from corrosion. Whilst choosing this non-electrolytic coating solution, the risk of hydrogen embrittlement inside the base fabric is minimized.
3. What is the drawback of zinc flake coating?
Ans. High system temperature can deform components and will reduce steel hardness. Small holes in components may be closed through a movie, but intensive rework is wanted. E-coat paints equal to greater no sacrificial corrosion protection. Layer harm will easily result in pink rust and blistering/chipping off of the layer.
Contact Us
254, Sector 6, IMT Manesar,, Gurugram, Haryana, 122050, India
Phone :+918037302113